In my last posting, there was a serious and "heavy" atmosphere to it. The trip out of Ohio was anything but. The stop at Kent State was sandwiched with some frivolity beginning at "Mike's Place."...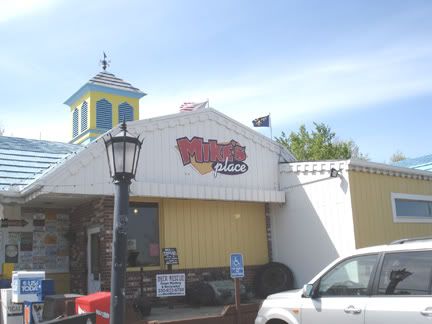 Not entirely sure what it was, but it had a replica "X-wing Fighter." No geek can pass that up...
...and my own geek moment...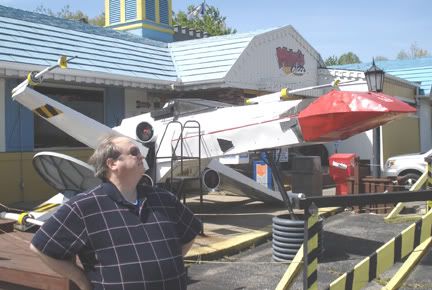 And on the way to Akron, I caught a glimpse of one of the Goodyear blimps...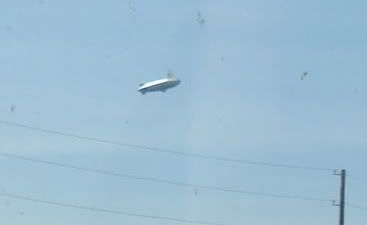 Before I get any further, I have to plug one of my better experiences in Ohio. I love fine convenience store stuff, and found that the chain in Ohio I liked was a store called "Sheetz." The had a breakfast menu, which featured "Shmuffins" stuffed with all kinds of eggs and pork, even a "Shbisquit," and their ultimate...The "Shmonster!!!" I even took home some "Shweets" for Becky, who really enjoyed the "no-bake peanut butter cookies." You can find them online at http://www.sheetz.com.
Now back to more tomfoolery.
WE WENT TO CANTON!!! WOO HOO!!!...
Here I am doing my best fat-QB-Sonny Jurgenson-JaMarcus Russell-imitation...except they can throw the ball more than 20 yards, and actually hit something. Guess that's why I was a lineman...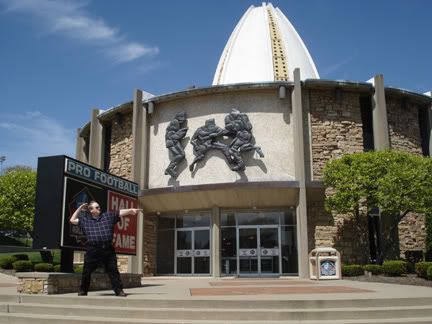 The "Hall of Fame" game kicks off the NFL season and is played in a stadium right next to the Hall. It's quite dinky...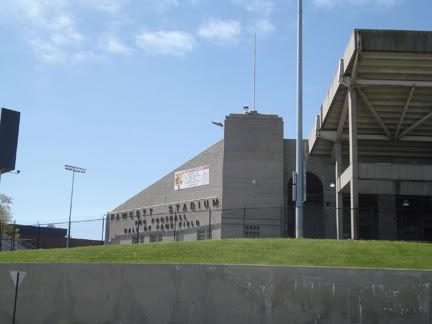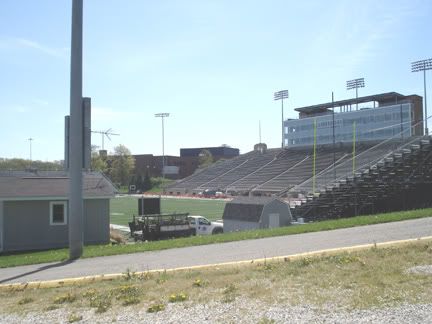 We only had time for the gift shop, and I bought some things. A Browns retro jersey for Becky. She's not a Browns fan, but I thought she'd like the colors and the "Brownie" image from the '50's. Rachel got a Colts "Peyton Manning" jersey. I bought a Chiefs Christmas ornament. Not a whole lot of Chiefs stuff there, which really does show where they rate and rank in the league...not very high.
There was some art, which caught my eye. This is a painting of the last true warrior of the NFL, the Eagles' Chuck Bednarik...
He once hit Giants' running back, Frank Gifford, so hard the players thought he'd killed him. Put Gifford out of football for about a year and a half.
Here's some "sports cartoons" from various papers. Guess sports cartoonists have gone the way of the dodo...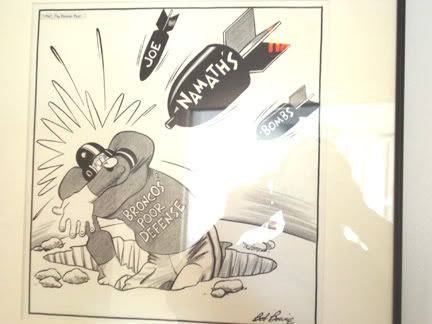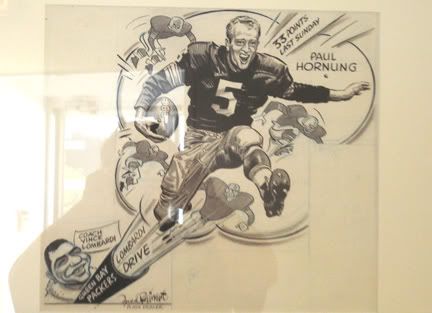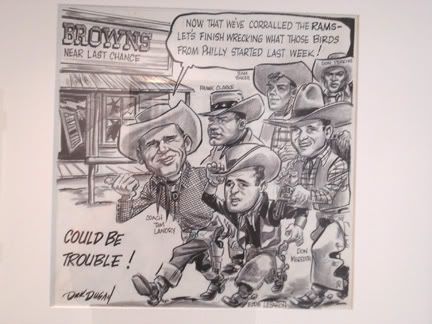 That's it for now. The next post will be the last leg of our trek to the airport, which included a stop at a really "sweet" place, and a surprise remembrance of a dear friend.
Good night!