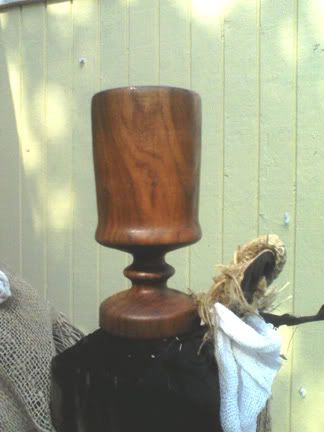 My pride and joy from this year's Renaissance Festival, held in Bonner Springs, KS! Some day I'll have to get my own lathe and turn my own goblets and such. But for now, got one a second year in a row. And "she-who-must-be-obeyed" didn't complain...too much...
But I really wanted the bronze satyr! Don't know what I'd do with it. Have threatened to put a patio in, but we can never agree on decor. She wants traditional and I want tikis and such...
The parades are always interesting. Didn't get any good shots as my phone/camera was doing the flashy out of memory thingy. Irritated me to no end. Nothing like most of the pics I did get were of horse's butts. But this one turned out okay...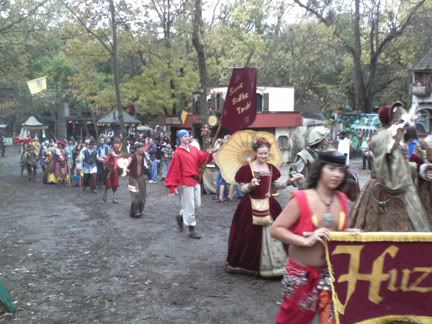 For years, "She-who-must-be-obeyed" nagged about going to the Ren Fest. "We never go anywhere or DO anything!..."yadda, yadda, yadda... So we finally went. Then went the next year. And the next year. And the next year. Then came the "...do we HAVE to go this year?..." whine, whine, whine...
"But you used to complain we never went?"
"Well, we've been. Do we need to go again?"
By this time, I kind of like going and plan on it each year. And my expectations are fairly simple...drink some meade, check out the wenching outfits,...and the wenches..., eat some food(usually something in a bread bowl), and shop. This year there was a lass willing to have a picture with me. The blurry, flesh colored border at the bottom is my wife's finger, as she didn't get it out of the way of the lens...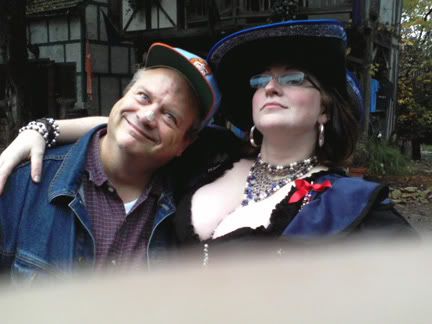 Best to not comment past this point. The bandaid on the nose was from a biopsy. At some point I'll tell why it isn't a good idea to tell fart jokes while the doctor is either injecting something into your nose, or cutting a hunch out. Made his hands shake. Not a good idea. Tests came back benign, by the way.
At this year's event was my senior supervisor in charge of Front Gate Photo. He brought his girlfriend, Anna, and their baby. Here we are having a "Kodak" moment...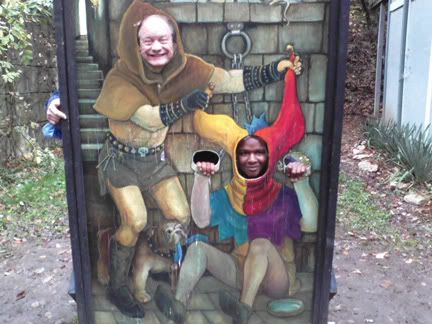 He and I rode the elephant, and it was new for him. He got guilted into it by us, and I could tell he really didn't want to do it. As he gingerly got onto the beast(her name is "Paige," by the way) he expressed some concern as to whether or not she would go nuts, having seen too many "animals gone bad" vids. As I got on I told him we should be okay, unless she decides to rare up or something. He white-knuckled through the entire ride. It was deliciously funny. And I hope Anna posts either some pics from the ride, or the video.
This past weekend marked how close we are to this season's end. Like a train wreck, it is coming to a halt. Now we have only 2 more weekends. But two things from this past weekend are the phrase, "...one tall glass of woman!" and this picture of one of our "monsters" for the Asylum. Taryn noticed his "wound" bore a striking resemblance to a certain anatomical part. I'll let you draw your own conclusions, but suffice it to say, he took quite a ribbing...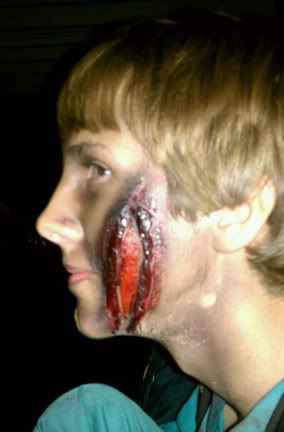 Hopefully I can post some drawings I did from this past weekend tomorrow, and finish up some stuff from around the studio.
Todah!