Hard to believe it's been so long between posts. As usual, this particular part of the year is rough. This year has been no exception, and in many ways, much worse. Mostly from readjusting. I lost weight over the summer and it's played havoc with the blood sugar. I'd like to lose more, but at present things are "plateau'd." But I've added some exercising, and some other things, which I'll discuss in another post.
So what did I do this summer? Not a whole lot of drawing or creating. Not a whole lot of "Mike" time for that, it seems. But I'm proud of one thing in particular...the booth at Oceans of Fun. I remember Jacob, my assistant mgr at the time, and I going over there to do some recon. I don't have any pics from that time...they're probably somewhere on a disc I can't find...but I wasn't very happy. Later on, I was given the tour of Oceans of Fun by Gena, one of the photographers from the previous season, and I was struck by how pretty the place was and is. One of the WF people commented on how it needed some blowups and signage, and it did. Guess in a roundabout way, it became my "baby" of sorts. Mostly because no one really wanted to deal with it. It took all summer and was a work in progress 'til the last weekend Oceans was open, but here's how it turned out...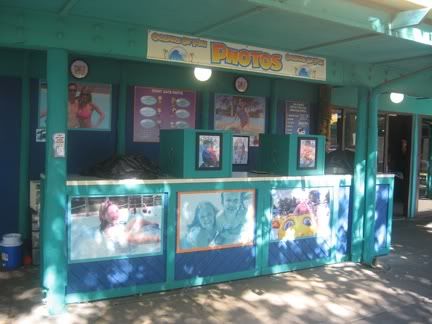 We added some lock boxes over the viewing stations to secure them, and to also not have to assemble and disassemble each day. Here's what it looked like open in all its glory...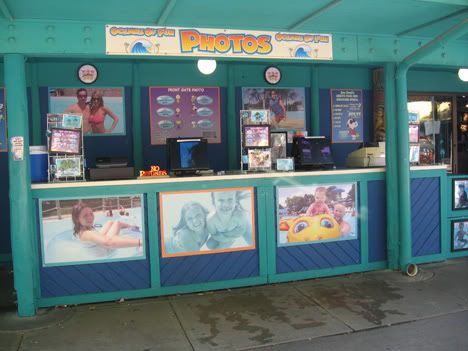 I guess one thing I got tired of hearing real fast was what couldn't be done there. Some things were simple...make it look like a place people would want to approach. Get working equipment. Recognize the windows of opportunity and business flow. Add a second cash register. Lastly, we had some really good kids who worked hard. They took a lot of photos. Here's Gena in action...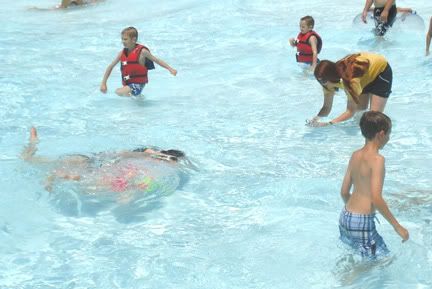 She's the best at the underwater pics, and did a lot to teach the others. We had some "go-getters"...Emily, Laura, Jessica, Pat, Derek, Jake, Taryn, Kayla, Linda, Lauren, and probably a bunch I'm not remembering at this time. When it came time to pull it down for the season, I gave Taryn the power drill while I ran folks to their cars. By the time I got back, she'd taken it pretty much taken it all apart with extreme prejudice. Probably a good thing, as I tended to get too sentimental.
I'm signing off on this subject. Going to get back to what I do best, which is drawing and cartooning. But I don't have any regrets regarding how Oceans operated this season. I had a lot of fun with something "the suits" really had written off. I will miss it. And give my farewell to my time at Oceans of Fun with a pic of me there at closing time. I was really happy there.