My daughter asked me to draw "something" for her soon to be husband before they were married, which was last May. At first, admittedly, I didn't know if I wanted to do it. Why? Because I can be stubborn and anti-social. After all, HE was stealing away my baby girl. Later on my reasoning was different. I'd warmed up to him and I really wanted to do a good job.
Perfectionism can also be the downfall of an artist. It's a mindset that everything HAS to be PERFECT!!! Even to the point of sapping all the energy out of the joy of drawing and painting. I've seen young cartoonists redraw and redraw pieces or comics pages because they have realized "how much better they are now, and can make it look better." Hogwash! Not because I'm soooooo much better and wiser, but because I know what that feels like. Been there, done that,...doing that! Take your lumps and go on. Put it out there, warts and all, and do better on the next one.
Which brings us back to my daughter's "commission." I finally got down to the gritty and the nitty. Some things were left out. I wanted to add Adrianna and Furio, but couldn't make them fit. Same with Uncle June, but his caricature in a "Hanna-Barbera" style still eludes me. Maybe on the next one. If there is one. Oh, and if you'll click on the images, you should see a bigger version. Give you a chance to see some of the details. Here's how the black & white version turned out...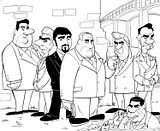 I wanted to do the color better. In hindsight, I should've used either an airbrush(of which I don't have and have never used much), or draw it on hot press illustration board and used markers. That way will take more trial and error, as I've never found enough colors that don't "react" with one another, particularly the lineart medium. In this case I drew it in India ink. While I may pick it apart, I think they will both like it. I'll let you guess which one is my son-in-law, and who the rest are on "Tony's crew." If I did my job right, it'll be easy...if you are a fan of "The Sopranos," that is.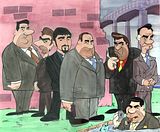 Let me know what you think.