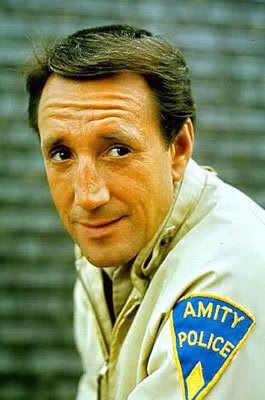 I hate when this feels like an obit column. But it seems yet another actor who appeared in a favorite movie of mine has passed away. Roy Scheider, "Chief Brody," died yesterday.
I saw "Jaws" when it first came out in the Summer of 1975. I was on a semi-blind date that night in St. Joseph, MO, and we almost didn't get in to see the movie. It was so packed, we ended up sitting on the floor. (We were late because she was humiliating me at mini-golf, and instead of calling the game early, using the excuse we had to get to the show, I wanted to play on and save my dwindling ego. I didn't.) I loved that movie so much I ended up seeing it in the theatres during its run 6 times. Most of today's audience will think it hokey and laugh at the mechanical shark, but back then it was quite the scary fare.
A few years back, Don Knotts, Darren McGavin, and Dennis Weaver all passed around the same weekend in February. I did this caricature piece in tribute.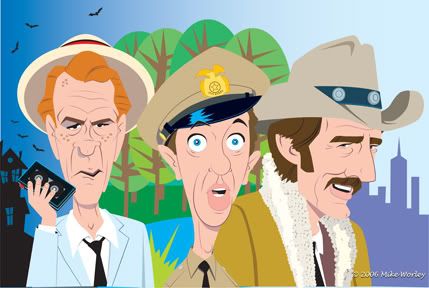 Guess it's time to work on some others.
I may start doing a "What if...?" of sorts of my own stuff. On the NCN board there is a challenge section, and I was intrigued by one challenge of doing character designs for a particular movie. I never got a chance to finish them, and admittedly the movie of choice, "Pulp Fiction," didn't inspire me. But I played with some stuff from "Planet of the Apes," and thought I might try it. Here's my version of "George Taylor."
Should have more soon. Be good!